SAN JUAN'S MARBELLA: EXECS, EVENTS, TOUGH COURSE
Exec Club
Sunday, May 22, 2011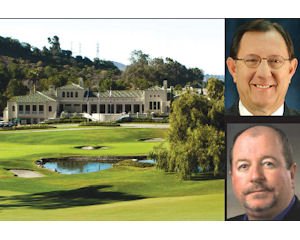 This year it will be the site of 20 weddings.
It's trying to expand nonmember events while keeping events for members a priority.
Marbella has about 700 members, including 480 "full golf" members, which is the most expensive membership, costing about $20,000 to join and about $600 in monthly dues.
Capacity for Marbella is about 550 golf members.
Many people join because their friends are members, said Bri Grill, director of membership sales.
The club sells other kinds of memberships, such as a social membership, designed for people who don't want to play golf or tennis but want access to the clubhouse and member events.
Monthly dues are about $200 for a social membership.
Memberships extend to immediate family members—spouse and children.
Marbella holds holiday events for families and has daily activities for kids, such as lessons in golf and tennis, and a competitive kids' swim team called the Manta Rays.
"They're very attentive to families," Peterson said. "It's more of a family activity than a bunch of guys standing around lighting up smelly cigars."
He said he occasionally brings his grandkids to the club.
Peterson joined nearly a year ago.
The club is near his homes in Laguna Beach and San Juan Capistrano.
"The feel was good," he said. "When I met the people they had nice smiles. Everyone knows your name."
The membership makeup is a mix of executives, doctors and other professionals and retirees, according to Grill.
About 40% of members are retired.
Members can host business meetings and clients at the club. Many come to relax.
"A lot of them leave work at the door," Grill said. "This is their place to chill."
Founding
The club, founded in 1989, has weathered some bad economic times, even a Chapter 11 bankruptcy in the 1990s.
It opened with 200 founding members who paid about $30,000 each to join.
It began as a dues-free club. It eventually adopted dues after coming up short on revenue.
Founding members include Joan Irvine Smith and a number of professional sports players.
The country club and the homes were developed by Laguna Niguel-based Fairway Land Co., according to Olsen.
At the time, Olsen headed up Fairway's subsidiary, Marbella Properties.

NGP Realty, formerly National Golf Properties, bought Marbella in 2001 for a reported $12.5 million.
In 2003, Goldman Sachs and Starwood Capital Group acquired NGP and American Golf's 225 courses, including Marbella, for about $1 billion.
American Golf manages several courses in Orange County including Fullerton Golf Course and Casta del Sol Golf Course in Mission Viejo.
The company also runs a few country clubs, including Dove Canyon Country Club and SeaCliff Country Club in Huntington Beach.
American Golf has sold a number of courses and clubs and now manages about 100.
Marbella has been one of the stronger properties for the company, according to Olsen.
"It's the oldest cliche in real estate: 'location, location, location,'" he said.
Prev Next