SOME 60 LAYOFFS, CLOSURE OF DESIGN CENTERS PLANNED
Emulex Cuts After Rise in Costs, Lackluster Outlook
Sunday, May 15, 2011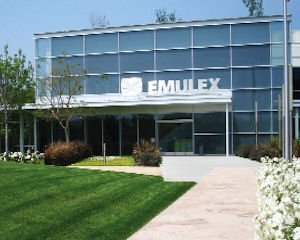 "Local product search is a natural fit for our business model and our key soccer mom demographic," said Raj Mohan, a Local.com senior vice president who will oversee the business.
The buy is the latest in a series for Local.com.
Last week, the company completed a $2.3 million deal for Boston's Rovion Inc., a unit of Irvine's DigitalPost Interactive Inc.
Rovion creates and tracks online video advertising for local and national advertisers.
In January, Local.com picked up Los Angeles-based iTwango LLC for undisclosed terms. ITwango's technology allows online advertisers to submit discounted offers to targeted consumers via email.
Under the terms of the latest deal, Krillion Chief Executive Sherry Thomas-Zon becomes vice president of Local.com's local shopping division.
"Our business is an excellent fit with the media platform Local.com has built," she said.
Joe to ZyXel
Consumer networking veteran Steven Joe has been named executive vice president of channel business in the Americas for Anaheim's ZyXel Communications Inc., the U.S. arm of Taiwanese networking gear maker ZyXel Inc.
Joe is responsible for building sales through stores and e-commerce sites. He reports to Howie Chu, president of ZyXel Communications.
Joe said he's looking to tap relationships forged during his 24 years in the industry to improve partnerships and build sales.

"I've been in this industry for a long time and know quite a few people," said Joe, who spent 22 years, including a stint as chief executive, at Fountain Valley's D-Link Systems Inc., a maker of networking gear for consumers and small businesses.
More recently, he served as vice president and general manager of international and strategic business at Irvine's Vizio Inc., one of the top sellers of flat TVs.
Prev Next