EDUCATION: ST. MARY'S HAS APPAREL, TECH, REAL ESTATE FAMILIES
Aliso Viejo School's Global Outlook Draws Executives' Kids
Sunday, May 15, 2011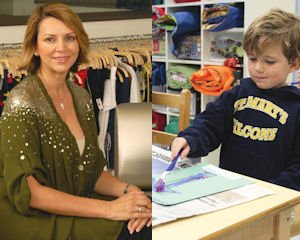 The school is nondenominational and has students from at least 16 religious backgrounds, including Jewish and Hindu, or none at all.
Religion wasn't the draw for Vogel, she said.
"We're kind of agnostic," she said. "But I still believe it's important for them to be exposed and learn how to navigate the tough times by having a good moral compass."
The school draws about a third of its students from Laguna Niguel and Aliso Viejo.
Others come from Newport Beach, Tustin and Irvine.
Class Size
This year, St. Mary's enrolled 130 new students. There are about 20 kids per class.
Before the downturn, St. Mary's had about 800 students.
The school has adapted, according to Risner.
The school plans to max out at 750 students, which would give it 22 students per class through sixth grade and 18 in junior high.
Former software executive and parent Auriemma said he likes the small class sizes.

"The more time teachers can spend with fewer students, especially at the early ages, the more that's going to foster learning," he said.
Auriemma has a long history with the school. He and his wife have a daughter who graduated from St. Mary's. She's now a junior in college.
The Auriemmas have three other children who attend St. Mary's. "The school has been really positive for the kids," he said. "The administration is active and visible."
St. Mary's employs 50 full-time teachers.
"Good teachers is what it's all about," said John O'Brien, headmaster.
O'Brien, who's been with the school for three years, said he tries to recruit passionate teachers. They don't need an IB background. There is training for that, he said.
The school has teachers from Italy, Canada, Singapore and England, among other countries.
The IB program "tends to open up thinking for the kids," Auriemma said.
There are a few public schools in Orange County that have IB classes. St. Mary's is one of the few private schools that mixes a religious component and IB.
Approach
IB methods, which emphasizes students working together, are woven into the classes. It essentially has three parts: foreign languages, cross subject learning and a global perspective.
Students learning about the rainforest in science may write an essay about the rainforest in Spanish and then paint it in art.
"We focus on global issues outside the sphere of Orange County, so children begin to get a sense beyond themselves," O'Brien said.
As part of the IB program, students are required to take Spanish in kindergarten through fifth grade. In the middle grades, French, Italian and Mandarin Chinese are offered.
"Languages aren't taught as an elective but as a core subject," Risner said
Students also are involved in "service learning."
After the Japan earthquake and tsunami, St. Mary's students raised $200 by selling coffee to parents in the courtyard, according to Kay Fernandez, marketing and communications director for the school.
Fernandez and her husband have three daughters enrolled at St. Mary's.
Parents
Parents are present on campus and are required to volunteer about an hour a week.
"If your kids see you're visible in their education they'll think it must be important," Auriemma said.
His wife volunteers on campus.
"In the morning, parents don't usually just drop off their children," Vogel said. "I've never seen a school where as many parents hang around and talk to each other as on this campus. It's such a warm and welcoming community. It's very unpretentious."
Prev Next