EDUCATION: ST. MARY'S HAS APPAREL, TECH, REAL ESTATE FAMILIES
Aliso Viejo School's Global Outlook Draws Executives' Kids
Sunday, May 15, 2011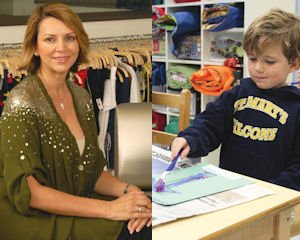 Lisa Vogel went to public school and did alright for herself. She's co-president of Raj Manufacturing LLC, a Tustin-based swimsuit maker.
But ongoing public school cuts have prompted her to think again about where to send her own kids.
About a year ago, she began looking at private schools for her oldest son, who had been attending a school in the Newport-Mesa Unified School District.
Vogel and her husband considered Carden Hall in Newport Beach, The Pegasus School in Huntington Beach and Harbor Day School in Corona del Mar, among others.
The Vogels ultimately decided on St. Mary's, a Christian school in Aliso Viejo where her oldest son is in first grade and her youngest son is a preschooler.
"I quickly became very passionate about the school and thought we had this under-the-radar gem," she said.
Vogel now is on St. Mary's board.
Other executives who send their kids to St. Mary's: Shawn Baldwin, partner at Newport Beach-based real estate company Sunrise Co.; former software executive Sam Auriemma; and Dave Kinney, founder of Irvine-based real estate investor Madison Street Partners LLC and chair of St. Mary's board of trustees.
The school's six-acre campus is known for its International Baccalaureate program, which prepares students for global business through study of foreign languages and global cultures, among other teachings.
"For me, as a businesswoman who works in a global business, it clicked and made sense," Vogel said. "We live in a world where we're preparing our children for careers that don't exist in this day and age."
Tuition
Annual tuition at St. Mary's is about $12,500. The school has a yearly operating budget of $9 million. Two annual fundraisers make up the $2,300 gap per student.
St. Mary's teaches preschool through eighth grade and has about 650 students.
Graduating students typically go on to one of a handful of private and public high schools including JSerra Catholic High School in San Juan Capistrano, Sage Hill School in Newport Beach and Laguna Beach High School.

The school, founded by Father Ernest Sillers in 1994, holds religious service in the gym every Monday. Students begin school days with a prayer and the Pledge of Allegiance.
"All of our students and families have to be open to hearing Christian religion and being taught values from the standpoint of the Old Testament and the Gospels," said Jennifer Risner, director of admissions. "We don't teach doctrine or convert students."
Prev Next