Right Timing, Hustle for New Tenants Can Bring Big Profits
Sunday, May 8, 2011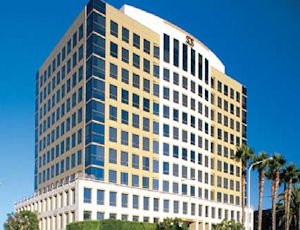 Even buildings bought under the right circumstances in 2010, or as recently as this year, can make a sizeable profit.
Sares-Regis bought the 281,548-square-foot La Palma distribution center in Anaheim—one-time home to Galleria Inc., an importer of lawn and garden furniture—in mid-2010 in a lender-driven sale.
CoStar Group Inc. listed that deal closing at $25 million, while Business Journal records show Sares-Regis paying a special servicer $20 million for the then-empty building.
Either way, it was reported to be the county's largest industrial sale of 2010.
Big Tenant
Four months after it bought the building back it found a long-term tenant in Straub Distributing Co., which handles beer and other beverages for Anheuser-Busch InBev SA NV.
Straub signed a 15-year lease for the warehouse and distribution building in a deal valued at $37.5 million.
New York-based drug maker Pfizer Inc. bought the fully leased building last month from Sares-Regis. It paid close to $150 per square foot—close to what some area offices have been selling for—and sees the buy as an investment rather than any potential addition to its distribution system.
"As a result of both the limited supply and capital's strong appetite for stable, leased assets today, this was a highly competitive offering," said Darla Longo, a vice chairman and industrial specialist with the Ontario office of brokerage CB Richard Ellis Group Inc., which represented both the buyers and seller in the Anaheim deal.
Sares-Regis and its investment partners followed a similar playbook late last year, when they flipped a 391,000 square foot industrial building in Redlands for $17.6 million to KTR Property Trust.
It had bought the property from an institutional investor for $11.5 million in late 2009 in a distressed sale, according to Cushman's Cole, whose team worked on both sales.
CT in IE
CT Realty also is working in the Inland Empire as part of an investment group said to be looking to make close to a $50 million profit on the flip of a recently leased industrial facility.
CT Realty Investors and its three partners—Addison, Texas-based Behringer Harvard, San Diego-based Westcore Properties, and PCCP LLC, a private equity firm in El Segundo—bought the 1.4 million square foot Cajon Distribution Center in San Bernardino late last year for a reported $50 million.
The building was empty at the time of the sale, but within six months the new owners announced they'd landed Hewlett-Packard Co. to take over all of the two-building property.