HEALTHCARE: PROVIDER OF HOME CARE SEES IMPACT FROM SHIFT
Apria Taking Back Outsourced Billing
Sunday, May 8, 2011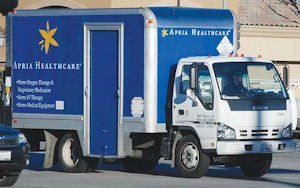 Apria's billing and outsourcing issues have impacted the company's credit rating.
Last week, ratings company Moody's Inc. downgraded Apria to a "B1" corporate family rating from a "Ba3" rating, citing "negative free cash flow in 2010" largely associated with outsourcing issues.
In Moody's rating system, anything less than "Baa" is considered less than investment grade, or junk bond status.
In late April, Standard & Poor's revised its outlook on Apria to "negative, given cash flow that is below our expectations."
The ratings company said Apria has a "leading position in providing specialized home healthcare services and equipment."
But it indicated that Apria's billing outsourcing challenges caused the company to fall short of its expectations for earnings before interest, taxes, depreciation and amortization.
Apria and others in its industry are operating under a new competitive bidding system for Medicare that they fought against. That program is expected to cut home healthcare companies' reimbursement in the double-digits.
Medicare officials have said that competitive bidding is designed to combat fraud and waste in the federal insurance program, which serves some 45 million older and disabled Americans.
Apria said it expects an "unfavorable impact" from Medicare competitive billing in its news release, but did not elaborate.
Improving Scale
The company is making moves that some industry observers say will help it increase its already large presence in the home health industry.
The company has more than 12,300 employees and more than 500 locations spread out in all 50 states.
Apria bought the home healthcare division of Danbury, Conn.-based Praxair Inc., a maker of industrial gases, in February for an undisclosed price.
Praxair's home healthcare division had a network of 85 branches throughout the U.S. and provides a range of home respiratory services and equipment.
Apria said on a conference call that it expected Praxair's business to contribute $85 million to $95 million in revenue this year.
The company wanted to buy Praxair's home health unit in order to build up scale in the wake of competitive bidding and other reimbursement pressures, according to another HME article.
"Given the current environment, it takes scale to be effective," Bob Leonard, an analyst with Pittsburgh-based Braff Group, a mergers and acquisitions firm, told HME.
"Apria has a well-built-out network already," said Rick Glass, president of Steven Richards & Associates of Tarpon Springs, Fla., in the article. "They want to add more business with as few additional expenses as possible."
During Apria's time as a public company it was known for buying smaller home healthcare companies and integrating them through a process known as "Apriatization."
Apria came about from the 1995 combination of Fountain Valley-based Homedco Group Inc. and Abbey Healthcare Group Inc. of Costa Mesa.
It worked past some early difficulties, which also included problems combining its predecessors' billing systems, to become one of the largest home healthcare companies.
Prev Next