TV SPOTS SPAWN SPECIAL EDITION OF SOUL HATCHBACK
Kia's Furry Pitchmen Grow Into Brand With Hamstar
Sunday, June 5, 2011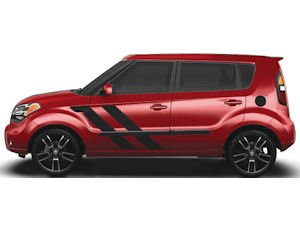 Each cup represented a point for the respective school.
The school with the highest points at the campaign's conclusion received $20,000 to donate to a charity.
University of North Carolina won.
The promotion included online, outdoor and radio ads to go with two 30-second TV spots and a section on the Kangaroo Express website created especially for the contest.
"College basketball in that town is well supported," Skiver said. "Any time you can get those interests together, you're going to generate some sales."
The promotion helped sell 130,000 cups of coffee and there are plans to do similar promotions in the fall throughout the Southeast for basketball and football teams.
"The idea here behind the battle is it's targeting a really core audience for them—the college students and fans," Skiver said. "They frequent their stores. They're very loyal Kangaroo Express customers, so it makes sense for us to put programs together to get people into the stores."
Skiver Advertising is doubling its office space to 4,000 square feet with a relocation planned for summer to Lido Isle in Newport Beach.

Skiver has hired two workers in the past two months. That brings the office to 15 staffers with plans to make six more hires by October.
Auri Rebranding
Laguna Beach shoemaker Auri Inc. hired marketing agency San Francisco-based M2 Studios in a bid to bring consistency to its consumer and trade advertising. The shop also will work on marketing materials and a new website.
Auri sells casual and dress shoes for men and women in Nordstrom, Fred Segal and other stores.
Its men's shoes are sold for $125 to $285, while women's shoes range from $145 to $400.

Auri said it intends to roll out print ads in fashion magazines sometime in the third or fourth quarter.
The shoe company went public earlier this year after it acquired North Carolina's Wellstone Filter Sciences Inc., a cigarette filter patent holder, in a reverse merger. The deal gave Auri control of Wellstone's ticker on the over-the-counter Bulletin Board exchange.
Auri reported a $1 million loss last year after an $890,492 loss in 2009. The company had revenue of $557,965 last year, up less than 1% from a year earlier.
Since January, the shoemaker has landed 50 new retail accounts, including Seattle-based Nordstrom Inc.'s website and Piperlime.com, part of San Francisco-based Gap Inc.
The company recently hired a sales representative to help it expand in the Northeast.
Prev Next